RHS Chelsea Flower Show 2018
Yet another cold spring hindered the growth of plants, but that didn't stop the garden designers transporting landscapes from the Yorkshire Dales to Cape Town to central London for a week in May.
With Main Avenue bringing the landscapes of South Africa in one direction to the Yorkshire Dales in another, there was certainly plenty of variety, bold statements and spectacular sculptures to wow this year at the annual RHS Chelsea Flower Show.
Many of the gardens this year were also designed to raise awareness of social issues or to deliver important messages. One of the messages was how the importance of gardening, and being in a garden, can do wonders for your general physical and mental health.
The RHS Feel Good Garden (an un-judged garden) reflected the focus on the beneficial aspects of gardening with the RHS and NHS joining forces to celebrate 70 years of the NHS. This garden was donated to the NHS and will be relocated to the Camden and Islington NHS Foundation Trust after the show. The garden also highlights how important some extraordinary species of plants are which modern medicine couldn't do without.
Strong colours were prominent this year with the Lupinus'Masterpiece', Iris 'Quechee', Foxgloves, Aquilegias and Poppies all playing big parts in the gardens.
Show Gardens
Large Show Gardens
Three gardens stood out particularly this year; The Welcome to Yorkshire Garden (which won a Gold medal, the Best Construction Award and The People's Choice Best Show Garden Award), The Trailfinders South African Wine Estate Garden (which won a Silver-gilt medal) and The LG Eco-City Garden (which won a Silver-gilt medal).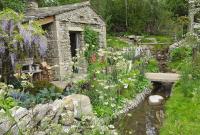 The show stopping garden this year was without question The Welcome to Yorkshire Garden; a re-creation of the Yorkshire Dales, complete with a babbling beck, public footpath, stone walls, a bothy, cottage garden and a vegetable patch, which looked as if it was being worked on with a fork left in the ground, as if someone would return any minute.
It was so realistic, you'd have never thought you were in the centre of London, which is a tribute to the garden design team! The attention to detail was staggering, with cowpats giving it a real sense of authenticity. Picture perfect, charming and exquisite, a fantastic garden.
The Trailfinders South African Wine Estate Garden brought a piece of South Africa to Chelsea featuring multiple different scenes within a single garden. It was quite amazing to see how the Leucospermum Cordifolium dropped their seed when fire hits, with the smoke and heat helping to germinate the seeds; nature at its best!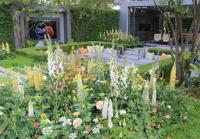 The LG Eco-City Garden managed to mix soft planting with high technology and environmentalism. The pallet of yellows, oranges and whites really drew your attention; a small oasis for city living folk.
Space to Grow Gardens
A new category for this year was the Space to Grow Gardens. These were eight gardens all tasked to educate, inspire and inform. All very interesting, although some were a little unusual, but nevertheless thought provoking.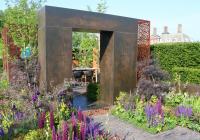 Two gardens from this category particularly stood out; The Urban Flow Garden (which won a Gold medal and Best Space to Grow Garden, pictured right) and The Cherub HIV Garden: A Life Without Walls Garden (which won a Silver-gilt medal). This garden set out to increase awareness of HIV in young people, with a distinctive pod providing a symbolic focal point.
The Urban Flow Garden was a warm, welcoming, intimate garden highlighting two important messages; how to deal with too much water and how to conserve water. Definitely an innovative, environmental and landscaped solution to tackle water conservation.
Many key plants were used, but the Ginkgo biloba (Maidenhair tree) which cleans the air and deflects excess rain, slowing down the time it takes to hit the ground, is a great multi-purpose species.
Artisan Gardens
Seven gardens exquisitely designed demonstrated that diminutive garden size is no barrier at Chelsea, and an important story can still be told within a small garden. The Claims Guys: A Very English Garden was particularly nice (which won a Silver-gilt medal); a celebration of craftsmanship and tradition. It was full of elegance, very quaint and quintessentially English!
The Great Pavilion
With 55 Gold awards this year in the Great Pavilion, the range of colours and smells on the award winning stands gave you plenty to look at and sniff at. Everything looked so bright and fresh.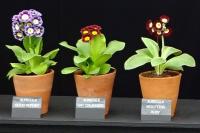 The way the Auriculas are displayed against a black background always makes them look divine. There were also amazing displays of Orchids, Dahlias, Irises, Clematis, Roses and Hellebores to name but a few.
However the Great Pavilion isn't all about plants and flowers, although the displays were undoubtedly beautiful. A Beekeeping stand in the Discovery section had lots of useful information to help get you started in this increasingly popular hobby.
Vegetables are so important to us, and this year many were on show, including Wasabi for the very first time.
Another first timer was the Eucalyptus tree (by Grafton Nursery, who won a Silver-gilt medal). Their message being that Eucalyptus trees can be grown successfully in UK gardens, plus Eucalyptus goes into many products and medicines, making it invaluable and in time it is likely to become more and more popular.
Cacti and succulents seem to be taking off with Echeveria 'Perle Von Burg' and 'Campton Carousel' setting a trend! The Diamond Jubilee Award was won by Southfield Nurseries (who also won a Gold medal) confirming this trend.
The RHS Chelsea Plant of the Year 2018
Scrutinised for excellence, innovation, impact and appeal, to make sure they aren't a one-minute wonder, was exhibited by The Sun, with the Hydrangea 'Runaway Bride Snow White' stealing the limelight.
In some ways Chelsea didn't have a wow factor this year that it's had in previous years. Maybe it's ready for a make-over? Yet it does still continue to cultivate the next generation of growers, designers, gardeners and florists.
Loose yourself in a garden!
Gardens are about LIFE, and have the power to move everyone.
Filed under Reviews.
---