Plants of Seasonal Interest
From our database of over 2,000 plants, or search by...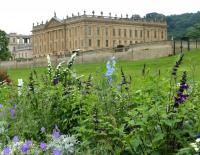 Now in its second year, the RHS Chatsworth flower show was an altogether much more pleasurable experience compared to the storms and gloomy weather that marred its inaugural season last year.

What does Transpiration mean ?

Why not check out our glossary section to find what this term means and many others like it.
Love gardening and plants? Why not visit:
On: 01 Jan 1970
Sun Rise: 04:35 - Sun Set: 21:29
---
The Tree & Shrub Expert

5 stars - Inexpensive and well thought out, presenting in-depth information in a concise form.

Read our review...