RHS Hampton Court Flower Show 2014
The RHS Hampton Court Flower Show is the largest flower show in the world and is always a spectacular event, but with 33 acres of show-ground to explore you'll need a good pair of shoes to make the best of it.
Show Gardens
Show gardens are for me the major attraction at any flower show and the RHS Hampton Court flower show this year featured 33 show gardens in all from a selection of categories:
Show gardens
Summer gardens
Conceptual gardens
Your garden, your budget gardens
Large Show Gardens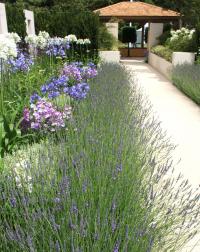 Across the show ground there were ten large show gardens. This show garden category always has the best to offer with the most space to play with creatively and the biggest budgets.
The World Vision garden completed a themed trilogy of gardens with the first garden at the Chelsea flower show and the second garden at the BBC Gardeners' World Live show. The theme highlighted the Ethiopian famine of 30 years ago and how western aid has transformed the area into a thriving export community.
Without doubt, my favourite garden of the whole show was The Just Retirement garden designed by Jack Dunckley. At only 21 Jack Dunckley is showing remarkable maturity in his designs and is definitely a garden designer to watch for the future.
Summer Gardens
The summer garden category contained seven different small gardens, all designed to celebrate summer, but each with its own individual theme. Being on a smaller scale, these gardens are much more akin to the size of garden you're likely to have at home and in that respect can provide some real inspiration.
Conceptual Gardens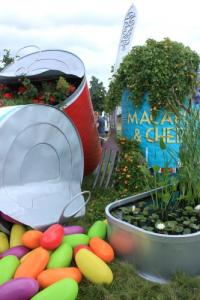 This year the conceptual garden category had a slight change, introducing an over-arching theme that all gardens had to adhere to. The chosen theme was The Seven Deadly Sins, with each garden depicting a specific sin.
This garden category is never my favourite as I tend to prefer the more traditional gardens, the sort of gardens that I'd like to have at home myself. However, I do think having a generic theme across all of conceptual gardens is an excellent idea. The key to appreciating these gardens is undoubtedly to understand what they are trying to say, without that, they are meaningless.
Your Garden, Your Budget
This category was previously called the Low cost, high impact category. Renamed this year it showcased four different gardens designed specifically for relaxing and entertaining guests in an urban environment with individual budgets of £7k, £10k, £13k and £15k.
With their minimal budgets, these gardens were all modestly sized but provided visitors with excellent examples of what could be achieved on a restricted budget in a typical domestic back garden. While their budgets were restricted, the flair and imagination demonstrated by the designers with their creativity certainly wasn't.
A very interesting category and one I highly enjoyed with some beautiful designs.
Turf Sculptures
A new feature to the Hampton Court Flower Show this year were the turf sculptures featuring six different sculptures, each completed in just two days.
This category was inspired by the land art movement demonstrating how closely linked the landscape and art can become.
A really interesting category, although perhaps a little reminiscent of Telly Tubby land, but surprisingly elegant in its execution.
Show Re-Design
This year the RHS continued the show's redesigned layout of last year with 3 separate zones Ė Grow, Escape & Inspire. Having been used to the previous layout for so many years I still feel a bit lost with the new layout and somehow feel there may not be quite as many show gardens.
Show Favourites
The Festival of Roses and Floristry Marquee is a must to see for all rose lovers, with this year's theme being The Circus. The flower arrangements and displays made from roses are always spectacular, particularly with their intense fragrance.
Introduced at the show this year was the rose of the year for 2015, Rosa 'For Your Eyes Only' ('Cheweyesup'), a dark pink floribunda rose with salmon and apricot tints.
The Country Living Magazine Pavilion is a valuable retail opportunity featuring over 120 designers, craftspeople and producers from all over Britain with items for sale that you're not likely to see elsewhere, particularly on the high street.
The Growing Tastes marquee was designed to inspire people to grow their own produce, no matter whether they have an acre plot or just a window box. The range of plants and produce available was amazing, featuring some truly unusual varieties.

The Floral Marquee was a massive affair and was home to 95 nurseries and growers from across the UK and even farther afield. Whatever your favourite plant is you'd find it there and with many different cultivars that you probably hadn't seen before.

Scarecrows
A regular annual exhibit at the show is the display of scarecrows created by infant and primary schools from the South East of England. This year's theme recognises the huge sacrifices made by millions of people one hundred years ago as Europe commemorates the centenary of the beginning of World War 1.
Summary
Being such a phenomenally large show it's very difficult to get around and see everything in a day. You sometimes feel that you have to rush to fit everything in and that you aren't really doing it justice.
In such a short article it's very hard to convey the real feel of the show, but perhaps to get a slightly better feel you can view our photos of the show gardens and our other photographs from the show on our Facebook page.
Filed under Reviews.
---