RHS Hampton Court Palace Flower Show 2016
The Hampton Court Palace Flower Show is the largest flower show in the world and this year featured a staggering 47 show gardens, amongst many other delights to enthral visitors.
Being the largest annual flower show in the world with 47 gardens, comprising seven different categories; Show, World, Water, Conceptual, Capability Brown, City, and Summer Gardens, there was certainly much to look at. However, it did seem confusing at times with so many different garden categories, especially with them being randomly mixed amongst the rest of the show; it was all too easy to miss one or two!
The setting behind the Palace and gardens is just stunning. However, the big plus at the Hampton Court show is space, 33 acres in all, with the show hosting numerous generous areas to relax and unwind in, perhaps taking in a picnic too.
Sunken areas were popular this year in the show gardens, which is a great way of creating privacy in your own garden. Eryngiums also seemed to be a popular plant included in many of the show gardens.
Some of the highlights of this year's show were the BBC/RHS Feel-Good Front Gardens, the Conceptual Gardens and the City Gardens, all of which offered great ideas for small spaces.
Feel-Good Front Gardens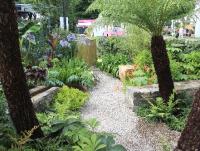 The RHS and BBC Local Radio launched a nationwide competition this year, inviting amateur garden designers to build a show garden at the RHS Hampton Court Palace Flower Show.
The designers were asked to design a small front garden with health and well-being at its heart, taking inspiration from their local region.
These four gardens achieved a high standard, and in some ways seemed better than some of the professional show gardens. Although these gardens were made using materials and plants available to everyone, they were perhaps a little un-realistic for the average front garden.
Capability Brown Gardens
A new category of garden this year - Capability Brown, celebrating the 300th anniversary of the birth of our greatest landscape designer Lancelot 'Capability' Brown, and recognising that in 1764, at the age of 48, he arrived at Hampton Court Palace as chief gardener.
During his career, Capability Brown changed the face of garden design in 18th century England, transforming landscapes of some of the country's grandest stately homes.
Three gardens celebrated different aspects of the design devices for which Capability Brown became famous. The Reflecting the Landscape garden won Best Capability Brown Garden and a Gold medal. It was a contemporary take on Brown's enormous skill in reshaping the form of the landscape, adding artfully positioned trees making them look as if they'd always been there. The garden was a brave attempt, but maybe lacked the elegance of the true Brown landscapes.
Conceptual Gardens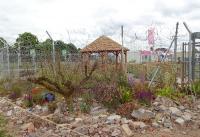 To celebrate ten years of the Conceptual Garden category at the show, there were ten dramatically designed and thought-provoking gardens.
The UNHCR: 'Border Control' Garden won Best Conceptual Garden and a Gold medal. It really stood out with a clear message; once inside the border crossing, the garden gave a much calmer feeling compared to the outer side; very emotional indeed.
Show Gardens
A particularly elegant show garden was the Squire's 80th Anniversary Garden, which won the RHS People's Choice Award: Show/Water/World/Conceptual/Capability Brown Gardens winner and a Gold medal.
The garden was a very practical design, utilising a clever if underused design technique of placing the garden design at an angle to the plot, giving it a really different look and feel. A few of its lovely features were the sunken, private seated area, raised beds providing colour at eye height and a path inter-planted with herbs.
Summer Gardens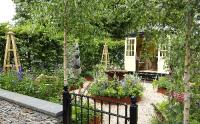 The Summer Gardens are always a wonderful category, but two in particular stood out.
The Lavender Garden (which won a Gold medal) was a picture postcard, gorgeous, calm feeling and relaxed.
The CCLA: A Summer Retreat Garden (pictured) also won a Gold medal. In was accessible and packed full of take home ideas, showing how to put things together in a nice and simple way. The garden was well planned and thought through with the Delphiniums, Penstemons and Euphorbia looking right at home.
City Gardens
The Drought Garden won Best City Garden and got a Silver gilt medal. This was a very pretty garden which featured a good selection of drought-tolerant plants and was inspired by the great UK drought of 1976.
The Inner City Grace Garden won Silver gilt and was designed to bring a woodland environment to a city garden with a calming, green environment instead of a grey, stressful one!
World Gardens
The World Gardens gave a taste of garden design from around the globe including gardens from South America, France, Spain and the United States of America; a very interesting category with some wonderful small gardens.
Floral Marquee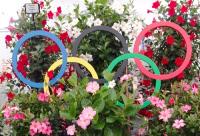 The huge floral marquee was full of growers from across the country with a plentiful supply of fantastic plants and stands.
Gladioli were definitely making a comeback and love in the mist, Penstamons, Dianthus and Agapanthus were also popular this year.
Some displays also chose to highlight the forthcoming Olympic games in Rio.
Festival of Roses
This year the Festival of Roses marquee was inspired by Beatrix Potter's garden, and celebrating the birth of Beatrix Potter was an array of colour and smell. The English Climbing Rose 'Scent from Heaven' won Rose of the Year.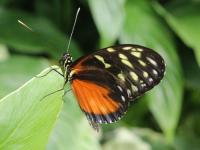 Elsewhere in the show, in the Butterfly Dome, it was especially magical to get up close to a plethora of colourful, tropical butterflies, although after a while the heat could get a bit oppressive.
While the Hampton Court Palace Flower Show is primarily about plants, it is also very much about gardening advice, shopping and being able to take inspiration from the show gardens to apply to your own garden at home.
Filed under Reviews.
---