RHS Chatsworth Flower Show 2018
Now in its second year, the RHS Chatsworth flower show was an altogether much more pleasurable experience compared to the storms and gloomy weather that marred its inaugural season last year.
Last year was the first year of the RHS' newest flower show; Chatsworth. Unfortunately on press day everyone was asked to vacate the show ground at lunchtime due to high winds and adverse weather, so it was very difficult to report on things you didn't really get a chance to see, or to get a feel of the show.
This year however, the weather was much kinder, a little overcast perhaps, but this is England!
You could not wish for a more beautiful setting for a flower show than to be situated on the banks of the River Derwent in the Derbyshire Dales, overshadowed by the iconic Chatsworth House, home to the Duke of Devonshire.
Show Gardens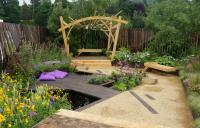 There were only five show gardens in all, which was quite disappointing for an RHS show of this size. However, there was one show garden that definitely stood out, and that was The Great Out Doors Garden by Phil Hirst that won a Gold medal and Best Show Garden, and you can see why. The colour palate was stunning, with purples and oranges, with the whole garden being extremely well executed, and perhaps the best test of all; it was definitely something that you would want yourself in your own back-garden.
The little Yorkshire garden, Hay Time in the Dales by Chris Myers, won a Silver medal and the People's Choice award. While being very twee, it was more of a replica of a piece of Yorkshire landscape and nothing you would aspire to as your own garden. This seems to be a trend in the flower shows, but don't you go to the shows more to get ideas and inspiration for your own garden, especially when there are only five show gardens in the first place?
Master Grower
D'Arcy and Everest (a UK nursery specialising in alpines and sempervivums) were awarded the RHS status of Master Grower. They are a family enterprise, established in 1992 in Cambridgeshire, who put on a magnificent show of their very best plants, and were also available to share their expertise and knowledge with visitors to the show. Back in 2014, we spoke to Luke Whiting of D'Arcy and Everest at the Autumn Malvern flower show for our gardening podcast, where he offered some expert advice on how to care for alpines and sempervivums.
Installations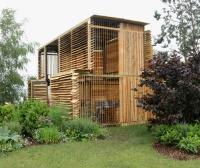 The Chatsworth show this year featured eight "installations", one of which, the Brewin and Dolphin Installation, was bordering on being a show garden. It featured a high, slatted wooden structure at its centre, which was meant to be an outdoor space? It's very much down to personal opinion, but perhaps a little more focus on "proper" gardens that we can all aspire to wouldn't go amiss, instead of more abstract features.
Floral Marquees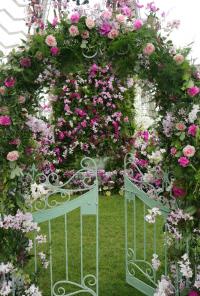 The Orchid extravaganza, situated in the middle of the two floral marquees, was absolutely amazing. Walking into the tent to be greeted with such a mass of colour was quiet breath taking.
Many people think Orchids are hard to grow, but this couldn't be further from the truth, orchids can be very easy to grow. If you find the right spot for them, they will be happy for years to come.
Launched at this year's show was a new Orchid cultivar which apparently is supposed to have a delicate aroma warm; we have yet to witness this on our Orchid however.
Long Borders
A feature specifically for the Chatsworth flower show, the Long Borders, were small garden borders in raised beds, delightful and inspirational and an excellent idea. The use of different colour schemes in the borders was particularly eye-catching, something we could all try in our gardens, although most gardens will already be quite well established, so maybe not quite so easy to implement, but implementing themed colour schemes in your hanging and window baskets each year is something very achievable.
The remainder of the show featured an awful lot of shopping opportunities, not all to do with gardens however, but interesting for the ladies to see what's going on with the latest fashions.
On the whole the show would be quite enjoyable for any gardening enthusiast, but for us, it was a long way to travel for a smaller show in comparison to the likes of Chelsea and Hampton Court, but then that of course depends on where you live in the country.
Filed under Reviews.
---