Geranium or Pelargonium?
Confusion often reigns when we discuss these two popular garden plants.
'I lost all my Geraniums last winter' a keen gardener once said to me. 'That's impossible' I replied 'Geraniums are fully hardy, but you might well have lost all of your Pelargoniums in that harsh winter without a heated greenhouse or conservatory.'
Here lies the problem, when talking about Geraniums we need to be clear about which plants we are actually talking about.
Pelargoniums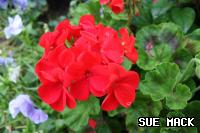 The simplest solution is never to refer to a Pelargonium (the Latin name) as a Geranium (the common name). Pelargoniums are those frost tender perennial plants that we grow as bedding plants in the UK. They are often the centre piece of our summer hanging baskets, tubs and window boxes. Pelargoniums have thick stems that store water, making them ideal for a drought tolerant seasonal display.
There are approximately 230 species in the Genus Pelargonium, it includes evergreen perennials, sub-shrubs, shrubs and succulents. Most of the species are native to South Africa. Very few species are grown after decades of breeding, which has resulted in many cultivars being introduced.
There are various groups of Pelargoniums such as Ivy-leaved, Regal, Zonal, and Scented-leaved. Some have an upright habit making them ideal for the centre of a pot or window box. Some have a trailing habit making them useful for hanging baskets.
The foliage of Pelargoniums is often scented, interestingly marked and coloured, each leaf is either palmately lobed (vaguely hand shaped) or pinnate i.e. each leaf is divided into leaflets.
If regularly dead–headed, Pelargonium flowers are very long lasting. In fact in the UK if you overwinter your Pelargoniums in a frost-free greenhouse or conservatory, maintaining a temperature between 7°C and 10°C they may well flower all year. A temperature of 2°C - 3°C should be sufficient to keep the plants alive during the coldest months of the year but probably without flowers.
The flowers of Pelargoniums have 5 petals and come in many different colours including white, pink, red, orange and purple.
Geraniums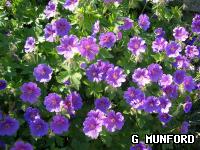 Geranium is also the Latin name for a completely different plant to the Pelargonium. However there are some similarities because both belong in the family Geraniaceae. The Genus Gearanium (common name Cranesbill) contains about 300 species of annuals, biennials and herbaceous semi-evergreen and evergreen perennials. Virtually all of the Geraniums that we grow in the UK are fully hardy to a UK winter.
Geranium flowers are saucer shaped and range in colour from white, pink, purple and blue. Regular dead-heading will encourage repeat flowering. The foliage of Geraniums can be rounded or palmately lobed, resembling maple leaves. As with the foliage of Pelagoniums, Geranium leaves often have interesting markings and colours and a nice scent. The foliage of many Geraniums also changes colour in the autumn months.
Geraniums are very easy to look after, they are ideal for the drought tolerant garden, they will flower well in shade and grow well on a wide range of soils. Many Geraniums are low-growing spreading perennials, making them useful as groundcover plants, however you do need to allow them enough space when planting to avoid them spreading into neighbouring plants.
Filed under General.
---