Royal Wedding Plants
Perfect plants for the Royal Wedding.
Kate and William tied the knot at Westminster Abbey in April 2011, but in years to come, how will we remember this Royal Wedding? I think an excellent way to commemerate the Royal Wedding is to have a plant in the garden as a momento. Here are just a few of the plants available that are perfectly suited to remember the historic event in years to come.
Clematis 'Wedding Day' has large, creamy white flowers that are produced in two flushes in early and late summer. It is fully hardy and will grow well in full sun or partial shade.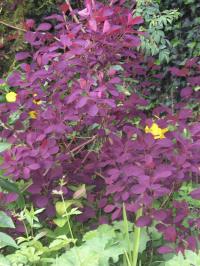 Cotinus coggygria 'Royal Purple' (pictured to the right) is a large shrub with stunning purple foliage that turns scarlet in autumn. During the summer fluffy flower plumes are produce which from a distance look like smoke; hence the common name 'smoke bush'.
Rosa 'Wedding Day' is a very vigorous rambling rose that needs to be planted in the right place to stop it engulfing other plants. During summer it has creamy white flowers that are ideal for cutting.
The flowers of Lathyrus odoratus 'Royal Wedding' are produced all summer. They are creamy white, highly scented and attractive to insects.
Exochorda x macrantha 'The Bride' (pictured at the top) would be my choice to remember the big day in years to come. Reason being, it will always be in flower on April 29th; a perfect annual reminder of the Royal Wedding of 2011. The white flowers cover the shrub in late spring and early summer and this annual prolific display has earnt Exochorda x macrantha 'The Bride' the prestigious RHS Award of Garden Merit.
Filed under General.
---