RHS Chelsea Flower Show 2013: The Centenary Year
The Chelsea Flower Show is universally accepted as being the world's top flower show and this year celebrated its centenary in a consistently spectacular fashion.
Each year every grower at Chelsea has a story about how the weather has affected them; the Centenary year was certainly no exception. This year it's been so cold resulting in a late and consequently challenging Spring; the light levels have been very low, but due to everyone's unfaltering commitment and everything being grown to perfection, this year saw 92 gold medals being awarded.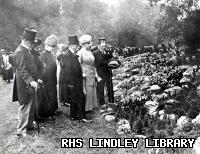 To show the Centenary year off in style the RHS had a few surprises up their sleeves! The ban on gnomes for the past 99 years was lifted, this year they were allowed and celebrities were invited to paint and decorate gnomes, which were auctioned off to help engage young people in horticulture (RHS Campaign for School Gardening). If you have a very old gnome in your garden, it may be worth taking great care of - Lampy the gnome from Lamport Hall is worth more than a million pounds! Previously gnomes were banned from RHS Shows as they fell into the category of being 'brightly coloured mythical creatures', which is how the ban was implemented in RHS manuals.
The RHS Chelsea Flower Show Plant of the Centenary display showed 10 of the best plants that have been launched at Chelsea in the last 100 years, one from each decade. The ultimate winner was the Geranium Rozanne.
Also to celebrate the centenary the Generation Gardens were designed to highlight changes to gardens and gardening during the last 100 years. The four gardens represented horticultural trends and fashions from 1913, the 1940's, the 1970's and 2013 and include flower and vegetable cultivars from the appropriate period, grown by schoolchildren.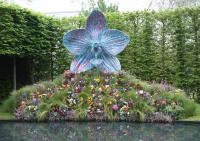 Centenary souvenirs were available to buy so you could have your own piece of RHS Chelsea Flower Show history in your own home. The theme being a florally inspired Union Jack that echoes the quintessentially British feel of the Show as the image to celebrate this special year. And the centenary Orchid sculpture commissioned by the RHS for the show's centenary (by Marc Quinn) will be auctioned off at Sotheby's with the proceeds going to support the Chelsea Centenary Appeal.
The Show Gardens
The Large Show Gardens
10 out of the 15 show gardens won gold this year.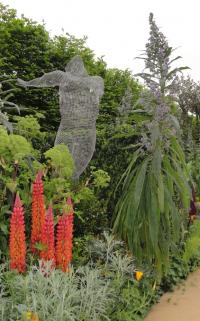 My favourite was The M&G Centenary Garden, designed by Roger Platts, which is based on the theme 'Windows Through Time' and reflects many recurring themes that have stood the test of time in British garden design over the last century.
Another of my favourites was The Arthritis Research UK Garden, designed by Chris Beardshaw, which won Best Show Garden – People's Choice award. Echiums towered above most of the other plants, and awe inspiring sculptures were used. This was such a personal garden, a real credit to Chris.
Trailfinders Australian Garden presented by Flemings won a gold and the best in show award.
Ornamental grasses are becoming the must have border accessory and were present in many of the show gardens, and have come into our gardens in recent times. They work well as a link between 2 different plants in the garden which don't sit well together. Grasses are easy to grow and give a long period of interest.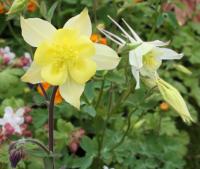 Star of the borders this year was 'Aquilegia', which for over 400 years has been in our gardens, and once they are introduced they are a prolific self seeder.
From seeing the show gardens this year it was prominent that gardens are becoming an extension to our home, an 'outdoor room'.
The Artisan gardens
I love the Artisan gardens, I feel I can understand and relate to these gardens more easily than some of The Show Gardens. My favourites were Walker's Pine Cottage Garden, Un Garreg (One Stone) and What will we leave? NSPCC Garden of Magical Childhood.
The Fresh Gardens
With 11 Fresh Gardens this year, it's a growing category with some very imaginative themes. The ones which stood out for me were The Mindfulness Garden, Digital Capabilities and After the Fire.
The Great Pavilion
The Great Pavilion is never a disappointment; the quality of exhibits was outstanding with 62 winning gold this year. Alliums were the Chelsea stars, with their burst of colour, and with their presence with Amaryllis they won the prestigious Diamond Jubilee Award.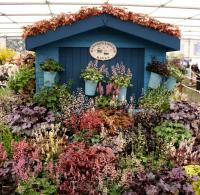 A Begonia called 'Chelsea Gold' and an Orchid called 'Slipper Orchid' were both launched at this year's show. Heucheras seem to have made a statement this year with their display of unusual colours. As usual Roses, Iris's, Paeonies, Delphiniums, Sweet peas, Lavender's and Lilies with their intoxicating perfume were all present.
Some of the exhibits which stood out for me were:
The Kirstenbosch-South African exhibit with their amazing display of Protea's. They also celebrated their 100th Birthday of Kirstenbosch National Botanical Garden in Cape Town.
On the Birmingham City Council display 'Enlightenment' Birmingham celebrated past & future with the opening of the Library of Birmingham, Europe's largest public library which will open in September 2013. The floral displays re-created elements of a book where an author has been influenced by Birmingham, for example the Birmingham Blitz, by Annie Murray.
Also the 'Far below the sea blooms' by SAFAS Area of NAFAS which won a coveted Gold Medal, well done ladies.
The attention to detail that goes into every garden or exhibit is second to none. As I wandered around Chelsea this year I got the impression natural plants and a feeling of 'wild' will make a big come back in our gardens at home. A small wild flower area in everyone's back garden gives off an enormous amount of colour and is brilliant for conservation, and it's a great way of using indigenous plants to keep their popularity alive. Natural lawns with flowers erupting through also work well.
I was surprised to see cow parsley make an appearance at Chelsea. To me this is something you tend to see on the grass verges, not in the show gardens at Chelsea. The use of orange and blue flowers in close proximity worked very well and I've never seen so many different shades of green, what a magical colour it is.
Chelsea is an ideas factory, a great place to get ideas and inspiration and I think everyone should experience and visit Chelsea. There is so much to see and take in; a visit to Chelsea is a must if you have a love for gardening, relaxation and a passion. The gardens need a very close inspection, the more you look the more you begin to realise what the garden is all about, and they all carry a hidden agenda.
Chelsea continues to be the best in the World, congratulations on your Centenary year.
Filed under Reviews.
---