Flower Arranging Using Spring Flowers
Which spring flowers can be used for cut flower arrangements?
Spring is a wonderful time of year; the whole garden is literally springing into life. You can see the tiny buds on the trees and the garden is changing from a green hue, bursting into a whole array of colour. What better time of year to give a bouquet of flowers to a loved one, or a dear friend. You can arrange your own stunning display, perhaps from your very own cut flower garden, or you could choose from an array of spring flowers from your favourite florist.
The best flowers to make up a spring bouquet might include the ever popular daffodils and tulips. Mixed together in a hand tied bouquet, these would make a wonderful gesture as Mother's Day gifts brightly coloured and cheerful. Other mixes might include Dahlia and Freesia; the decorative dahlia is not only vibrant in colour with pointed petals but has a versatile meaning.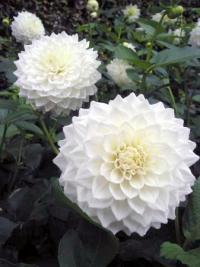 Photo of a Dahlia
Agapanthus is a vibrant flower whose name means the flower of love. There are about 10 different species of Agapanthus and many cultivars. The main flower colour is blue but there are also some white cultivars. They bloom from late spring right through until autumn, depending upon the variety. The agapanthus has quite an exotic appearance and has a funnel shaped bloom.
Orchids are another firm favourite for spring bouquets. These exotic flowers exude mystery and charm, captivating their audience. Many people have hunted orchids in the past, seeking out the rarest form and these blooms have been valued at thousands of pounds. Today, we can readily buy orchids in a variety of colours, but they are just as fascinating and stunning.
The fragrant blooms of peony will flower from late spring to early summer. There are approximately 30 species of the Peony and like Agapanthus, there are numerous cultivars. The Genus Paeonia was named in honour of the Greek god Paeon, which means the Physician of the Gods. Peony blooms are in shades of red, white, pink or yellow.
A favourite amongst those that adore the more exotic flower is the Bird of paradise (Strelitzia). This flower is named as such because the bloom looks like a bird in flight and is a well recognised bloom, symbolising beauty and elegance. These blooms will flower right through from September to the end of May.
Hyacinths are another popular spring bloom. Flowering between March and April, these blooms are highly fragrant in various shades from peach, white, yellow, lavender, blue and pink, with bell shaped petals, though it is fair to say that these blooms tend to be given as flowering pot plants rather than cut flowers, but they have often been given as Mother's Day flowers
Whichever blooms you choose to make up your spring bouquet, the burst of colour is bound to brighten up the day.
Filed under General.
---