The Garden in April
A short guide to some of the jobs that need to be done in the garden in April and a selection of plants that are at their best at this time of year.
April epitomizes the Spring season, the previous month often holds on to the remnants of winter and the following month can often feel more like summer. April ranks amongst the busiest of months for gardeners, it is a wonderful time to be out and about, pottering around in the garden.
What Jobs Need to be Done in the Garden During April?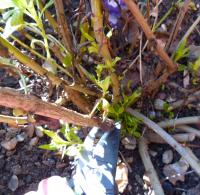 These two borderline hardy plants can be pruned this month. The potential for a severe frost diminishes each day this month, so these two plants can now be pruned hard down to fresh new shoots visible at the base.
Lawn Care
Mowing is usually necessary at least once per week in April, lawns can be scarified, Organic or in-organic feed/weed treatments can be applied, and any winter damage can be repaired with seed or turf.
In the Vegetable Garden
Examples of vegetables that can be started off in the greenhouse or on a windowsill this month:
Examples of veg crops that can be planted out without the need to protect from frost:
Other Jobs
Our Plant of the Month
Prunus 'Kiku-shidare-zakura' has weeping branches that help to restrict its overall size, making it ideal for the small to medium sized garden. During April and May, it is covered in double pink flowers. The young foliage of Prunus 'Kiku-shidare-zakura' is a lovely bronze colour.
Perfect Pairing
Two plants that Complement each other this Month
If you have a shady garden, it's not always easy to make it colourful. This month a shady site can be brightened up with a clump of Uvularia grandiflora with its unusual yellow flowers. In front of it plant Pulmonaria 'Diana Clare'. This pretty little 'blue cowslip' is a perfect match for its taller partner, the two flower colours working brilliantly together.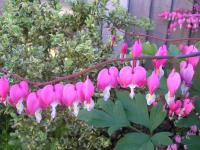 Some other recommended plants of interest this month:
Filed under General.
---