RHS Chelsea Flower Show 2022
Back in its usual May slot after a 3 year hiatus, the return of world's premier flower show was a welcomed sign of life returning to normal, and what better way to celebrate it than with Chelsea's floral and horticultural extravaganza.
After a strange few years, with months of enforced lockdowns, the importance of gardens and greens spaces to our mental well-being as palaces of quiet retreat was emphasised more than anyone could possibly have anticipated; something gardeners have known for a long time, but suddenly many more people also became acutely aware of too.
Platinum Jubilee
With her Majesty the queen celebrating her Platinum Jubilee this year there were obviously floral tributes to mark the occasion, such as the silhouette of Her Majesty in the official Platinum Jubilee shade of purple designed by florist Simon Lycett.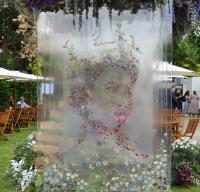 This display featured 70 terracotta pots planted with the Queen's favourite plant, Lily of the Valley.
Another installation titled Natural Perspectives, and designed by Ming Veevers Carter, featured a subtle, translucent 3D portrait of The Queen that only revealed its true self when viewed head-on.
For such a momentous occasion however, given that it was the Chelsea Flower Show, the level of the acknowledgement to this momentous milestone seemed distinctly underwhelming.
Show Gardens
Balcony Gardens and Container Gardens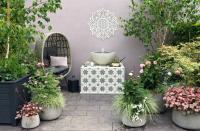 While many of us were fortunate to have gardens offering a haven of tranquillity during the trying times of lockdowns, others were less so.
This has been reflected in this year's Chelsea flower show with the two small show garden categories, the Balcony Gardens and Container Gardens, showing that virtually anyone can have their own, personal horticultural sanctuary even with limited space, especially in an urban environment.
Large Show Gardens
It's amazing how each year's show has its own zeitgeist; it's as if there's a cartel of garden designers that choose what plants will be featured.
This year it was particularly noticeable how many of the large show gardens sported native plants such as the humble Hawthorn (Crataegus), so common to our farmland hedgerows, and the nectar-rich Buttercup (Ranunculus), but so often maligned as a weed in our gardens.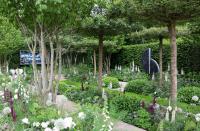 The Perennial Garden 'With Love' was designed by Richard Miers and won a Silver medal and the People's Choice Best Garden award. This contemporary clasical design not only included the Hawthorn, but featured eight of them, sculpted to a flat-topped design and arranged symmetrically along a central rill.
Fortunately there isn't a secret cartel, but rather the RHS encouraged garden designers to embrace nature and the wild by using native species of plants.
Sanctuary Gardens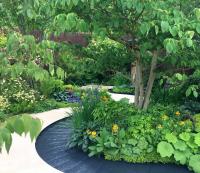 Gone is the Artisan garden category, with the area usually populated with these gardens being given over to the new Sanctuary Gardens, promoting the benefits of gardens on well-being.
In all there were twelve Sanctuary Gardens to be found throughout the show, with The Boodles Travel Garden designed by Tom Hoblyn, which won a Gold medal, being a particularly fine example of how a garden can instantly transport you to a calmer place.
Feature Garden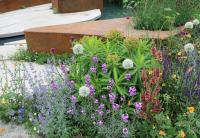 Every year there is an un-judged feature garden, which was designed by BBC Gardeners' World presenter Joe Swift this year; The BBC Studios Our Green Planet and RHS Bee Garden.
The garden was designed to inspire people to grow bee-friendly plants in their own gardens to help our native wild and solitary bees, with the planting scheme based on the RHS Plants for Pollinators list. The design of the garden, if viewed from above, echoed the shape and form of a bee's wing.
The Great Pavilion
While the Great Pavilion used to be exclusively populated by nurseries from around country, and further afield, exquisitely displaying their selections of perfect plant specimens, a new show garden category has been introduced in to the pavilion for the first time, with the focus obviously being on plants. This year the new show garden category, All About Plants, featured four such gardens to celebrate the powers of plants and how they can positively influence mental health, community, and industry.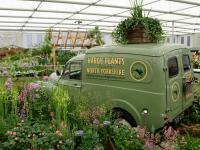 Compared to previous years the Great Pavilion felt very spaced-out, with less exhibitors and a bit less of the Chelsea "wow" factor. Given the circumstances of what we've all been through in the past two years however, this is entirely understandable.
Nevertheless, the plants on each exhibitor's stand were all magnificent and perfect specimens, as you'd expect from Chelsea. There were some wonderful, theatrical displays too, particularly the Hardy Plants nursery from Yorkshire who created a stunning display around their vintage Morris Minor van.
Throughout the show there was a strong promotion of physical and emotional well-being through gardening, together with the encouragement to use native species to promote our indigenous wildlife.
After a few tough years, we can all appropriate the benefits of green spaces, be them natural or carefully curated like the Chelsea Flower Show. The RHS are also highlighting the increasing loss of biodiversity that we're all witnessing and encouraging us to think about using more native species in our gardens. Laudable aspirations indeed.
Filed under Reviews.
---