RHS Chelsea Flower Show 2019
While a cold spring may have hindered the growth of some plants, it certainly didn't hinder the inspiration and creativity of the garden designers and nurseries exhibiting at this year's Chelsea Flower Show.
As usual, there was a real mix of beautiful gardens and stunning floral displays to delight visitors at the annual RHS Chelsea Flower Show this year. From manicured English cottage gardens to wild overgrown gardens, and from desert gardens to lush woodland gardens, the themes were many and varied.
New to Chelsea this year was a garden co-designed by HRH The Duchess of Cambridge. The RHS Back to Nature Garden was a place to rekindle childhood memories of time spent outdoors with the garden drawing attention to the importance of green spaces in every-day life and that of playing outdoors for general health and wellbeing.
Celebrating a new RHS garden due to open in 2020, The RHS Garden Bridgewater in Salford, landscape architect Tom Stuart-Smith created a masterplan for the 154 acre site, and brought to Chelsea a collage of the garden areas that will ultimately sit around the welcome building.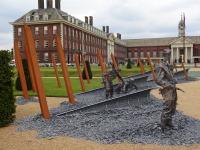 D-Day Remembered was a very moving and emotional garden installation on the lawns of the Royal Hospital to mark the 75th anniversary of the D-Day Landings and aiming to perpetuate the memory of 6th June 1944. The scene depicted a moment in time captured with amazing sculptures of men wading onto the beaches of Normandy through breaking waves.
The forestry commission was celebrating its centenary at the Chelsea flower show this year by designing a garden to illustrate the challenges faced by our woodlands in times of uncertain climate coupled with the threat of new pests and diseases.
The Resilience Garden (Gold medal winner and Best Construction award) showcased the latest scientific thinking about protecting and safeguarding our arboreal heritage for future generations to enjoy.
Some of the popular trees and shrubs featured in this year's gardens included Betula (Birch), Sambucus Nigra, Porphyrophylla, Pinus (Pine), Acer Palmatum (Japanese Maple), Juniperus Communis (Juniper), Nothofagus Antarctica, Crataegus (Hawthorn) and Mespilus Germanica (Medlar).
The plants that were well represented were Lupins, Foxgloves, Salvias, Mathiola (Stocks) and Agapanthus.
Show Gardens
Large Show Gardens
This year many of the show gardens had a 'wow' factor. The Wedgwood Garden (Silver gilt medal winner), featured soaring pavilions surrounded by dynamic yet soft planting giving it a tranquil and classical feel.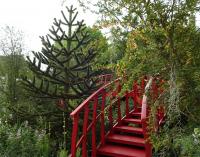 The Trailfinders 'Undiscovered Latin America' Garden (Silver medal winner) transported you to the rainforests of Chile. This was a full garden with a sculptural red walkway winding through a forest setting with waterfalls, lush green planting and mature Araucaria Araucana (monkey puzzle trees). Hats off to everyone who had to plant the trees and plants in this garden, as many were either poisonous or prickly, so not an easy garden to erect!
The most elegant, crisp and clean garden by far was The Morgan Stanley Garden (Gold medal winner), with borders bursting full of colour and variety and a distinctly cottage garden feel.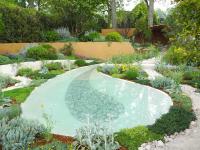 Combining plants from across the world's most arid regions, with its striking tear drop pool, The Dubai Majlis Garden (Silver gilt medal winner) celebrated the values of unity and collaboration that are essential to the co-existence of Dubai's diverse culture.
The garden beautifully combined a Mediterranean and Middle Eastern feel with design elements of design inspired by the shapes of sand-dune and terraced hillsides.
Artisan Gardens
Two gardens stood out this year from the crop of Artisan gardens.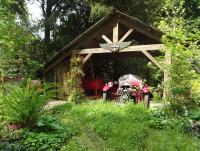 The High Maintenance Garden (Gold medal winner) for the Motor Neurone Disease Association, had a very authentic feel with this once loved garden, now sadly neglected due to ill health, and gradually being reclaimed by nature.
The Walke's Forgotten Quarry Garden (Silver gilt medal winner), was a section of a disused quarry with redundant industrial pieces scattered throughout the garden where nature was reclaiming the space and a garden growing.
With a colour scheme of oranges, greens and yellows, the use of wood and metal provided this garden with a wild yet organised feel.
Space to Grow Gardens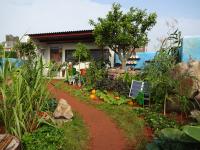 The Camfed Garden: Giving Girls in Africa a Space to Grow (Gold medal winner and the BBC / RHS People's Choice Award for Space to Grow Garden) captured the spirit of Africa with its vibrant colours and exotic flavours.
This garden represented female-led, climate-smart agriculture in sub-Saharan Africa.
The Kampo No Niwa Garden (Gold medal winner) was a clean, calm, manicured garden with lots of greens and splashes of colour. A beautiful rill water feature gave the garden crisp edges. Well deserving of its Gold medal.
The Great Pavilion
The first ever show garden inside the Great Pavilion by Tom Dixon, Gardening Will Save The World showcased an experimental vision of the future of gardening, allowing you to walk through and immerse yourself in an eco-system of trees, flowers and plants with medicinal, nutritional and environmental benefits. A very thought provoking display, with approximately 2,750 plants in the Supernatural Garden and approximately 4,800 in the Hyperreal Garden (Silver medal winner).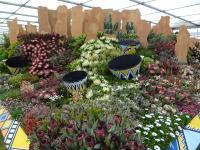 The vast pavilion felt very open this year with some lower-level displays, giving it a feeling of openness and not as claustrophobic as normal. It worked really well, allowing you to see the thousands of plants and flowers, timed to reach the peak of perfection for Chelsea. Some stands had a carnival feel, adding a different twist too.
Once again, there was a strong promotion of physical and emotional wellbeing through gardening. Another inspirational show making you come away full of ideas and enthusiasm.
Filed under Reviews.
---