RHS Chelsea Flower Show 2016
With a cold spring the show garden designers undoubtedly had their work cut out this year to create their inspiring and colourful gardens, but yet again they triumphed under adversity.
Her Majesty The Queen has visited the Chelsea Flower Show 50 times over the past years, and this year was no exception as she celebrated her 90th Birthday. To mark this special occasion a beautiful floral arch spanning the entrance to the show was created using flowers and foliage from British growers to greet her as she arrived.
The RHS' campaign of 'Greening Grey Britain' again highlighted green spaces at this year's show, and the importance of them, with the hope that we will all be inspired and clean up and 'green' our urban spaces.
One in four front gardens are paved over in the UK and one in three front gardens don't even have a single plant. These are horrifying facts, but unfortunately true! Let's find a space for plants in our lives, which in turn is great for our mental and physical well-being.
Poppies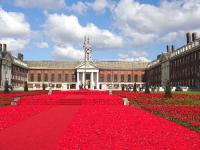 A stunning sea of 300,000 crocheted red poppies was a particularly moving sight in front of the Royal Hospital honouring the lives lost in the last 100 years of conflict around the world. 50,000 people from around the world were involved in the making of the poppies, with each one having its own story.
The Great Pavilion
Although featuring 103 exhibits, the Great Pavilion seemed a little less overpowering this year; more open and easier to take in and enjoy. There was still so much to see however, yet a few exhibits stood out.
The New Covent Garden Flower Market exhibit featured a wall of black flower buckets overflowing with flowers and foliage, showing the strength and support that the market gives florists, on one side of the display. On the other side, in the shape of the Queen's head, were layers of flowers in strong purples, pinks, oranges and yellows all set against a white back drop. The display looked and smelled amazing.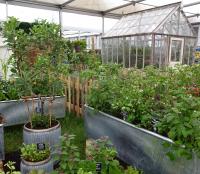 Growing vegetables and working in the greenhouse is an increasingly common pass-time, so to see three allotment gardens showing the development of allotments since Queen Elizabeth's birth in 1926 was especially interesting: an Allotment from 1926, a Chelsea Pensioners Allotment and The Modern Allotment.
It was amazing to see how times and eating habits have changed too. Over the next few years we're likely to see more displays of vegetables and vegetable patches at the Chelsea Flower Show, echoing the increased popularity of growing your own, so watch this space!
In the Discovery Area Coventry University highlighted the science behind horticulture and in particular the physical processes of gardening. They had an exhibit showing how beneficial gardening can be for you, demonstrating the actions of digging, weeding and hoeing with the effects on our skeleton and muscles. So why not use your garden as a gym!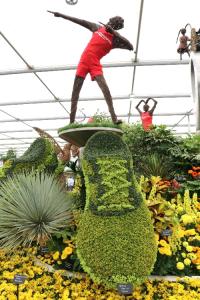 Birmingham City Council: One Small Step certainly put Birmingham on the map again at this year's Chelsea Flower Show. The aim was to encourage everyone to take one small step and become more active. There seems to be a common message from Chelsea this year; Health, Happiness and Horticulture.
The Diamond Jubilee award for the show was won by Ashwood Nurseries with their hepaticas. In an enchanting semi-woodland landscape that evoked the natural habitat of hepaticas, all twelve species were showcased to perfection.
The Great Pavilion seemed so much better this year, due perhaps to the feeling of openness and space, rather than a sometimes congested feeling.
Show Gardens
Large Show Gardens
There was a great mix of styles and definitely more variety this year amongst the seventeen show gardens, with the designers creating thought provoking and inspiring spaces.
Many included soothing places in which to relax and a few show gardens even had lawns! Most of us have lawns at home but you don't usually see them at the Chelsea Flower Show.
With six women designers at this year's show adding a new dimension, plants layered, more flowers, a diverse range of colours with oranges, purples, pink in amongst blues and foxgloves appearing in many gardens, there was plenty to see and take in.
Three stand-out gardens, for entirely different reasons, were: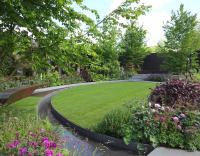 The Chelsea Barracks Garden - Gold medal winner
Exceptionally unusual for a Chelsea design to be centred with a huge lawn, but this garden pushed all the boundaries and got away with it, winning a gold medal.
Sweeping curves, a modern lawn, a wall of water and bespoke benches to tie the whole garden together; a traditional rose garden re-imagined for the 21st century. It was beautiful, crisp, clean, elegant and formal. A definite break from the norm at Chelsea!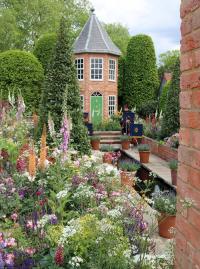 The Harrods British Eccentrics Garden - Silver-gilt medal winner
Quintessentially British and extremely quirky!
Box balls bobbed up and down, conical bay trees twirled, window boxes ascended and descended, borders span round on tracks and shears that clipped.
Lots of complicated mechanical things to go wrong on top of all the other things which can go wrong with a Chelsea show garden.
A fun garden designed to bring a smile to everyone's face, which it certainly achieved, with its mechanical tom-foolery yet sophisticated and elegant planting.
The Husqvarna Garden - Silver-gilt medal winner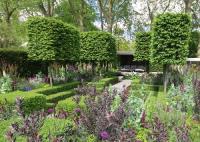 Asymmetrical, formal and verdant garden with floating clipped hornbeam cubes creating a strong structure against the cottage garden planting scheme.
Also featuring a sunken secluded lawn in which to relax, reflect and retreat from the pressures and speed of modern living. A WOW garden indeed!
The RHS People's Choice Award also deserves a special mention, which went to God's Own County - A Garden for Yorkshire (Silver medal winner).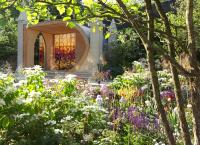 The relationship between the stained glass and planting, plus the craftsmanship of the stone work was superb. The whole garden was a work of art and it was lovely to see that it got recognised by the real gardeners and the general public.
Artisan Gardens
The six Artisan Gardens demonstrated traditional designs, materials and methods. Each created in a plot measuring around 25 square metres; a celebration of traditional crafts and excellence in craftsmanship.
Two gardens of special note were:
Senri-Sentei: Garage Garden - winning The President's Award and a Gold medal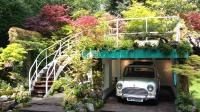 Our gardens are getting smaller and we have to become geniuses in using our limited available garden spaces. This two-tier structure was both beautiful and space saving. Shades of reds and greens, maples, moss, acers, pines, bonsais, a water feature, a terrace and even space for a small car! The attention to detail exquisite with everything being impeccably placed.
Viking Cruises Mekong Garden - winning the Best Artisan Garden Award and a Gold medal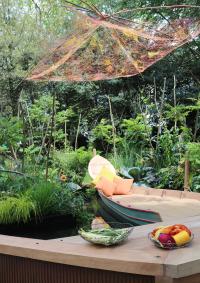 Staged almost entirely on water, inspired by the floating gardens in the silk-weaving regions of Cambodia and the Mekong River. A small deck leading to a 'floating' lounger styled on a traditional fishing boat, whilst overhead, a cantilevered parasol inspired by traditional fishing nets and silk weaving provided shade. The shades of oranges in this garden with the magnificent canopy really stood out.
Fresh Gardens
The seven Fresh Gardens this year featured bold and innovative designs with a wide range of materials used.
The Imperial Garden - Revive (Silver medal winner) was particularly invigorating. It wonderfully illustrated its 'revive' theme with metal frameworks running throughout the garden and naturalistic planting. A conceptual design exploring the complex relationships between Russia, Ukraine and the UK.
Yet another inspirational Chelsea Flower Show!
Filed under Reviews.
---