Glossary of Gardening Terms: A - Z
S
Descriptions of common gardening terms and phrases…
A-B-C-D-E-F-G-H-I-J-K-L-M-N-O-P-Q-R-[S]-T-U-V-W-X-Y-Z
---
Semi-evergreen:
Plant type
A plant that retains at least some of itís foliage during the whole calendar year.
Sepal:
Flower part
A petal-like structure under the flower petals. Usually green but sometimes modified and colourful.
Spathe:
A type of bract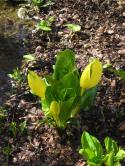 Sport:
Spontaneous production of unusual plant material
A sport is when a plant produces foliage or a flower that differs in character from the norm. E.g. colour or variegation. The resulting flower or leaf is described as a sport. Many cultivated plants are the result of propagation from sport plant material.
Stamen:
Male part of a flower
The Stamen is the male reproductive part of a flower, usually consisting of an Anther and a Filament.
---