Episode 14: Keukenhof Gardens & Gardening Jobs for May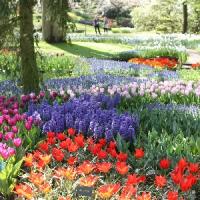 In this month's edition of the podcast we talk to one of the gardeners at the world famous Keukenhof gardens in Holland. We also look at seasonal gardening jobs to do in the garden during the month of May and a selection of plants that look good at this time of year.
Interview with Keukenhof Gardener, Owen Caroll - 5' 54"
We talk to Owen Caroll, one of the gardeners at the Keukenhof gardens in Holland, about their spectacular gardens showcasing the Dutch bulb industry with 7.5 million Tulips, Daffodils, Hyacinths and Crocus bulbs planted every year.
Click here to view photos of our visit to the Keukenhof gardens on our Facebook page.
Plant of the Month - 19' 35"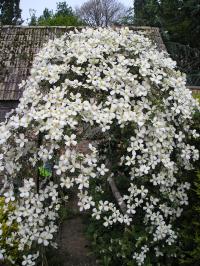 Our plant of the month for May is Clematis montana var. grandiflora.
Height 10m, spread 4m
Hardy climber, likes full sun or partial shade
Fast growing, vigorous
Fertile, well drained, neutral soil
Flowers: May and June, pure white, 4 big petals, yellow centres
Dark green leaves
Good for a north facing site
Minimal maintenance with no routine pruning necessary
RHS Award of Garden Merit
Perfect Pairing - 21' 39"
For the month of May we've picked two plants that compliment each other:
Average growing, hardy, perennial
25cm tall, 30cm spread
Full sun or partial shade
Moderately fertile, moist, well-drained soil
Flowers: saucer shaped blue on upright spikes, May to July, long flowering
Leaves: deeply toothed, greyish-green
Good for attracting insects
RHS Award of Garden Merit
Iris 'Buckwheat' - Bearded Iris
Average growing, hardy plant
90cm tall, 45cm spread
Full sun, well-drained, moderately fertile, neutral to acidic soil
Flowers: pale Yellow with brown veining on the beard, May and June
Toxic
Jobs in the Garden - 26' 56"
Dead-heading - prevents the onset of seed production, encourages flower development
Fill containers and hanging baskets for the summer
Stake perennial plants
Lawns – weed and feed, mow
Sow seeds of hardy biennials in-situ e.g. Foxgloves and Sweet Williams
Plant out Dahlia tubers after overwintering
Spray roses that are prone to attack from black-spot and greenfly
Water new plantings if the weather is dry
Prune shrubs that have just finished flowering e.g. Forsythia and Ribes
If late frost is forecast cover tender plants including vegetables with horticultural fleece
In the Vegetable Garden - 31' 18"
Sow seeds outside of: Runner beans, Marrows, Courgettes, Pumpkins, Carrots, Potato tubers, Cabbage and Beetroot
Plant out young plants that you have started indoors of: Sweetcorn, Tomatoes, Aubergines, Peppers, Marrows, Courgettes, Cucumbers, Melons and Pumpkins
Harvest: Asparagus, Rhubarb and Spinach
Plants of Note - 33' 24"
Another two plants that we felt were worthy of note for this month are:
Hardy, fast growing, vigorous climber
9m tall, 5m spread
Full sun or light shade, moist, well-drained, fertile soil
Flowers: pea-like, Blue/Lilac clusters, May and June
Toxic
Fragrant
RHS Award of Garden Merit
Fast to average growing, hardy, shrub
3m tall, 4m spread
Full sun or partial shade, fertile, well-drained soil
Flowers: small, deep pink, trumpet-like, May and June
RHS Award of Garden Merit
Listener's Questions - 38' 40"
Terry Essling - "Hi, listening to the podcast, my baskets are basically wrought iron open baskets with commercial liners. It isn't the roots of the pansies that the woodlice are eating but the flowers!! As I said I am using a commercial compost which has pieces of uncomposted wood mixed in it."
Bridget Preston - "I have a Spathiphyllum (Peace Lily) plant. I want to know why the leaves go brown at the tips and along the edges. The plant was given to me last year at this time when it was in bloom with some beautiful flowers and quite prolific in size. I had to re-pot it and it stands in another pot which is bigger and allows air to circulate. I water it whenever the soil feels dry, about once a fortnight, and gave it some plant feed middle of last month before going on holiday. It has been growing some new shoots which look like they will be the 'new' plant, as I've had to cut out some of the very big brown leaves to make it look better. The new leaves are now about 12 inches tall and looking healthy. What shall I do next?"
Forthcoming Garden and Flower Shows - 43' 01"
Useful Links
.
---