Episode 12: Council Flower Beds, Gardening Jobs and Plants of Interest for March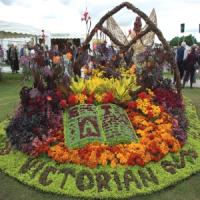 In this month's edition of the podcast we talk to Dennis Smith, Parks Manager for Huntingdon Town Council, about the ins and outs of planting and maintaining municipal flower beds and hanging baskets. We also look at seasonal gardening jobs to do in the garden during the month of March and a selection of plants that look good at this time of year.
Interview with Local Parks Manager, Dennis Smith - 4' 28"
We talk to Dennis Smith, Parks Manager for Huntingdon Town Council, about planting and maintaining municipal flower beds and hanging baskets within an urban environment, the costs involved and some useful tips and tricks of the trade.
Plant of the Month - 22' 36"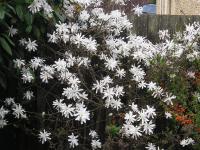 Our plant of the month for March is Magnolia stellata.
Height 3m, spread 4m
Hardy shrub, likes full sun or partial shade
Slow growing
Soil: Moist, well drained loam
Flowers from March to April, pure white star shaped flowers, lightly scented
Perfect Pairing - 25' 34"
For the month of March we've picked two plants that compliment each other:
Average growing, half-hardy shrub
1.5m tall, 1.5m spread
Full sun or partial shade, moist, well drained soil
Flowers: fragrant yellow, February to April
Average to fast growing, hardy perennial
30cm tall, 45cm spread
Full sun, moderately fertile, well-drained, preferably neutral or alkaline soil
Flowers: rich purple, March to May
Good ground cover
Jobs in the Garden - 30' 39"
Bedding plants, sow seeds indoors
Prune shrubs to produce colourful winter stems e.g. Dogwood: Cornus alba 'Sibirica'
Rose and shrub pruning, e.g. Buddleja davidii
Cut back ornamental grasses
Feed container grown ericaceous shrubs that flower next month e.g. Camellia, Rhododendron
Top dressing of well-rotted compost or manure
Split congested clumps of herbaceous plants
Cut the lawn for the first time
In the Vegetable Garden - 32' 59"
Sow inside: Aubergines and Tomatoes

Sow outside: French beans & carrots under cloches; Broad beans, Onions seeds or sets, Brussels sprouts and spinach

Plant out: Garlic cloves, tubers of Jerusalem artichokes and young Seakale
Plants of Note - 35' 05"
Another two plants that we felt were worthy of note for this month are:
Fast growing, hardy, evergreen shrub
2.5m tall, 2m spread
Partial shade, moist, well-drained ericaceous soil
Evergreen, glossy green leaves
Flowers: white & yellow, March and April
RHS Award of Garden Merit
Average growing, hardy deciduous tree
10m tall, 10m spread
Full sun, tolerates more soils
Flowers: double pink, March and April
Green / bronze in autumn foliage
Very free flowering
RHS Award of Garden Merit
Listener's Questions - 38' 24"
Terry Essling - "Hi, my window box planters are planted up with winter flowering pansies, but they are getting eaten away by woodlice. I have tried a chemical treatment previously but doesn't seem to stop them, any ideas please?"
Useful Links
.
---