False Acacia
Robinia pseudoacacia

'Frisia'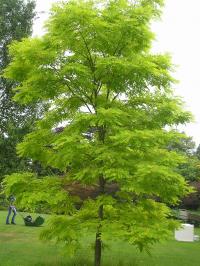 Common Name: False Acacia
Genus: Robinia
Species: pseudoacacia
Cultivar: 'Frisia'
Robinias are named after Jean Robin who was a French botanist, employed by Henry IV of France.
Category: Trees
Growth Rate: Fast growing
Features: Has interesting foliage, Has fragrant flowers/foliage, Has colourful autumn foliage

| | |
| --- | --- |
| Hardiness: Hardy | Height: 20.00 m (2000 cm) |
| Sun/Shade: Full sun or Partial shade | Spread: 10.00 m (1000 cm) |
| | |
| --- | --- |
| Foliage Type: Deciduous | Flower Colour: White |
| Foliage Colour: Gold, Green, Yellow | Flowering Period: May & June |
Soil Type: Normal/Loam or Sandy/Light or Clay/Heavy or Chalky/Alkaline
Soil Moisture: Dry, well drained or Moist, but well drained

This deciduous tree is primarily grown for itís attractive foliage, the leaves are split into leaflets with glorious, almost fluorescent-yellow foliage turning yellow-green in summer, then orange-yellow in autumn. Mature specimens produce clusters of creamy white, fragrant flowers in early summer.

This vigorous, broadly columnar tree makes an excellent specimen for a sunny, suburban garden. The best leaf colour is maintained in full sun. Robinia pseudoacacia ĎFrisiaí is usually late into leaf, the young leaves not unfurling until late spring.

Garden Care: On trees trained as a central-leader standard any competing leaders should be removed as soon as possible in mid- to late-summer. Shelter from strong winds and avoid disturbing the roots, since the tree is prone to suckering. On established trees pruning is best kept to a minimum as large pruning cuts don't heal well. Remove suckers early on.
---