Christmas Gift Idea for Gardeners
A festive gift idea for a keen gardener.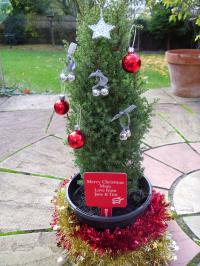 It's never easy choosing a Christmas present for someone. However, if your intended recipient is a keen gardener, here is an idea for you.
Purchase a dwarf conifer (here I have used Juniperus communis 'Compressa') and dress it up in Christmas decorations so that it looks like a little Christmas tree.
For the perfect finishing touch, add one of our bespoke engraved labels with a personal message.
Not only will this miniature Christmas tree look great indoors over the festive period, but once the festivities are over, you can remove the Christmas ornaments ready to be used again next year and keep the dwarf conifer in its pot either indoors or outdoors for the rest of the year.
As Christmas approaches again next year you will already have a happy, healthy mini Christmas tree ready to be "recycled" for another year.
Article written by George Munford on 06 Nov 2011 and Filed under General.
---